The football season is over, at least as far as fans of the Premier League and other big European leagues are concerned. There is no major tournament (in the men's senior game) this summer either, so whilst some will be looking forward to a summer of sun and BBQs, others will be seeing a long, blank, football-free calendar and beginning to sweat. But fear ye not, and save your sweating for when you're stood flailing helplessly over the BBQ as the sausages burn, because there is some rather decent football in store this summer.
We have the women's World Cup for a start, which takes place from 20th July to 20th August. Before that we have some international qualifiers ahead of Euro 2024, plus various minor leagues from around the globe that take place through the summer months. However, our focus here is on Georgia and Romania and the UEFA Under-21 Championship.
Whether you call it by that name, the European Under-21 Championship, the Under-21 Euros or anything else, this is an exciting event that will see some really top-class players battling it out. These age-group tournaments can sometimes fly under the radar a little bit, so if you weren't even aware there was an under-21 tournament taking place this summer, we've got everything you need to know right here.
Where are When do the U21 Euros Take Place in 2023?
This tournament takes place in Georgia and Romania and whilst these nations border Russia and Ukraine respectively the championship is expected to go ahead without any disruption. The two nations bid to host the event on their own but in the end it was decided they would co-host the tournament.
The first games take place on 21st June and include Georgia v Portugal, Belgium v Netherlands (both in Tbilisi) and Ukraine v Croatia in Bucharest. Those matches start at 6 pm (CET) and then later that same day Romania will play Spain in Bucharest. England's campaign begins with a game against Czechia the following day in Batumi, the Las Vegas of Georgia for those with a good imagination.
The quarter finals begin on 1st July, with two then and two the following day; the semis are on 5th July, with one in Batumi and the other in the Romanian capital, Bucharest. Batumi also hosts the final of the tournament with this taking place on 8th July 2023.
The full list of host venues can be seen below:
Georgia – Batumi, Batumi Arena (hosting three group matches, a semi final and the final
Georgia – Tbilisi, Meskhi Stadium
Georgia – Tbilisi, Paichadze Stadium
Romania – Bucharest, Giulești Stadium
Romania – Bucharest, Steaua Stadium (hosting all of Romania's group games plus a semi final)
Romania – Cluj-Napoca, CFR Cluj Stadium
Romania – Cluj-Napoca, Cluj Arena
Georgia – Kutaisi, Shengelia Arena
England's Group at U21 Euro 2023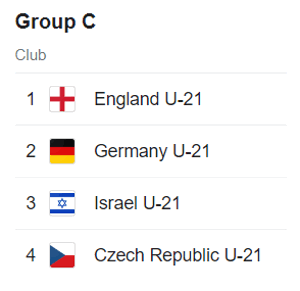 England, managed by former Everton midfielder Lee Carsley, have been in Group C. This pits them against Germany, the Czech Republic (or Czechia if you prefer) and Israel. The Germans have won this tournament three times before, including last time out in Hungary and Slovenia. They are third favourites according to the bookmakers so this is a tough draw for the Three Lions. That said, England themselves are second favourites, so Germany will hardly be thrilled with the draw either.
England's fixtures are:
22 June 2023, Czechia v England, Batumi Arena, 5 pm
25 June 2023, England v Israel, Shengelia Arena, 5 pm
28 June 2023, England v Germany, Batumi Arena, 5 pm
Note that all kick-offs are UK times. England will hope that they have already qualified for the quarters by the time they face Germany. However, even if they have, the match could be important in terms of the side they face in the next round. If they are runners-up in the group they will face the winner of Group A; whilst should they top the pile, they will face that quartet's second-placed side.
With Group A looking rather strong, it might not make too much difference to England, or certainly it would not necessarily be clear from the outset whether finishing first or second would be more advantageous. That said, Group A concludes prior to the England versus Germany match, so both sides will know who they could face depending on the outcome of that huge clash. Group A contains co-hosts Georgia, plus Portugal, Belgium and Netherlands, with the latter trio among a group of eight sides who can have a decent hope of going all the way.
The draw is such that England would probably face a semi against either Germany, or one of those three strong outfits listed above. Not that we want to get ahead of ourselves, but should the young Lions get through that, probable opponents in the final would be France, Italy, or, most likely of all, tournament favourites Spain.
Can England Win the Under 21 Euros?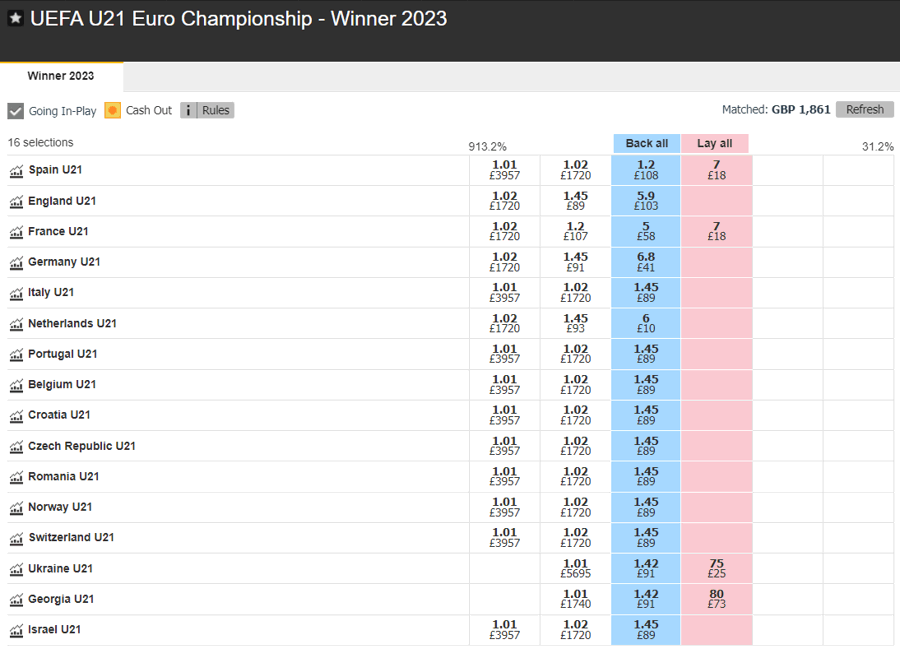 The betting ranks only Spain ahead of England so on that basis alone we would have to say that Carsley's side have a decent chance. England have had a lot of age-group success in recent years, although you have to go way back to 1984 for the last time they won this tournament. They also won in 1982 and made the final more recently in 2009. The 2009 starting XI featured some players to have had great long-term Premier League careers, such as James Milner and Mark Noble. Micah Richards, Theo Walcott and Kieran Gibbs also played.
The current squad includes midfielders Harvey Elliott, Curtis Jones, James Garner, Jacob Ramsey and Oliver Skipp, all of whom have decent Premier League experience. In attack they have Morgan Gibbs-White and Anthony Gordon (combined transfer fees of almost £90m), plus Arsenal's Emile Smith Rowe. Defensively they look a little weaker but Chelsea's Levi Colwill played 17 times for Brighton on loan in 2022/23, whilst Everton's Jarrad Branthwaite looked very good in 36 loan outings with PSV in the Netherlands. Max Aaarons also boasts decent Premier League experience and 23 Under-21 caps, so all in all England look to have a nicely balanced squad.
In qualifying they topped Group G ahead of Czechia, winning eight of their 10 games and losing just once. Only Portugal and Germany won more matches and so it is easy to see why Carsley's tyros are among the favourites. They may not have the easiest draw but given a little luck we certainly think they might just be able to emulate the class of '84. Time will tell if they can match the achievement of the likes of Mark Hately, Danny Wallace, Steve Hodge, Paul Bracewell, Dave Watson, Gary Stevens and Gary Mabbutt – but we won't be betting against it!