On 21st March 2023 Roy Hodgson was appointed as the manager of Crystal Palace at the age of 75. It was half-expected but also rather surprising given his failure in a similar firefighting role with Watford the season before and also the fact that after that he said he would not be managing in the Premier League again. And that, well, at 75, he should probably be focussing on golf, slipper-wearing and a spot of gardening.
Of course, 75 isn't quite the age it used to be and being 80 has been no impediment to Harrison Ford reprising his much-loved role as Indian Jones. If Indy can fight Nazis and perhaps the odd snake, surely old Roy can hack a six-pointer at Elland Road without too much bother? But just how old is 75 in terms of football management and who have been the oldest managers in the game?
Roy Is Premier Oldie
Hodgson will be 76 in August 2023 which makes him the oldest boss the Premier League has ever seen. And by some distance too, with the late, great Bobby Robson second. Sir Bobby bowed out at the age of 71 and 192 days with a 0-0 draw (for Newcastle) against Villa. The third-oldest manager in the history of the PL was also the greatest it has ever seen and also the best British football has ever had. Sir Alex Ferguson won everything with Man United and was a couple of months younger than his fellow knight of the realm when he retired after an amazing 5-5 draw with West Brom in May 2013.
The oldest manager currently active as a boss is Neil Warnock, who at the ripe old age of 74, a mere spring chicken to Roy, is trying to steer Huddersfield out of the relegation zone in the Championship. Warnock is also the fourth-oldest in PL terms, having taken charge of Cardiff in 2018/19 at the age of 70.
Oldest Manager in the World: 77 Years Old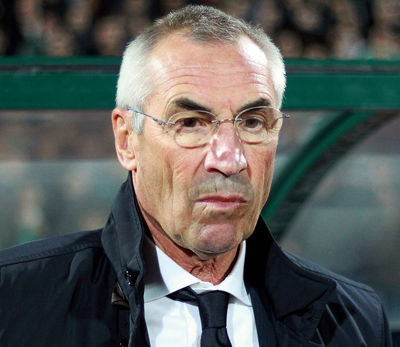 Obtaining stats on the oldest managers anywhere in the world is not easy and much of the focus is on the Premier League in light of Roy's appointment. However, with a little perseverance, we have discovered that Edoardo Reja is the oldest current manager in world football. Probably. We think.
Reja was born on 10th October 1945, making him fully 668 days old than Hodgson by our reckoning. That definitely gives him the right to call the former England boss both "son" and "young man" in our opinion. Reja was born in Lucinico, Italy, just a month after the end of the Second World War and began his coaching career in 1979, in Serie D.
He would have to wait around 20 years to manage in the top flight, taking over at Vicenza in 1998/99 and in his long managerial career he has been in charge at almost every smaller Serie A side you can name – as well as the odd larger side. His CV also includes spells at:
Treviso
Pescara
Verona
Bologna
Lecce
Brescia
Torino
Genoa
Catania
Cagliari
Napoli
Lazio
Atalanta
After a three-year break between 2016 and 2019, the former Palermo midfielder made his first foray into international management, becoming boss of Albania. He stayed there for three years, managing a very respectable 36.84% win ratio and blooding a number of young players into the national side.
A close friend of Fabio Capello, he took over at Gorica in March 2023, with the Slovenian outfit mired at the foot of their nation's top division. We don't know what the Slovenian for slippers is but in Italian it is pantofole and we suggest Reja should be in his, rather than battling relegation in Slovenia. But to each their own.
Other Notable Old Football Managers
Many managers around the world have been ordering young men around when they could be collecting their pensions. Watching our parents try to use Netflix makes us wonder quite how these septuagenarians navigate their world of earphone-wearing, mega-rich, teenagers and 20-somethings. None the less, here are some of the most notable football managers to have worked into their 60s and 70s.
Oscar Tabarez: 75 Years Old
Tabarez was born a few months before Hodgson and won the Copa Libertadores with Penarol in his native Uruguay in 1987. That's about 16 years before Jude Bellingham was born by the way. He first managed Uruguay in 1988 and was also boss at Boca juniors (twice) and Milan, before returning to the national side in 2006.
His long spell as boss of Uruguay ended after poor results in qualification ahead of the Qatar World Cup. He was dismissed on 19th November 2021 after 15 years at the helm and at the age of 27,290 days – or almost 75 to most people.
Dick Advocaat: 75 Years Old
Advocaat is a name many British fans will know thanks to his time as boss of Rangers, Netherlands and perhaps Sunderland. The peripatetic Dutchman clearly has a liking for international football and has also managed the Dutch women, UAE, South Korea, Russia, Serbia and, most recently, Iraq.
Another member of the Class of 1947, he is currently 75 and still working, having been appointed as boss of Den Haag at the end of November 2022. The club were relegated from the Dutch top flight in 2021 and were struggling in the second tier when he took over. You will be unsurprised to learn we do not know the Dutch for slippers.
Lars Lagerback: 74 Years Old
Born in 1948 Lagerback is a youth of the management game, albeit a 74-year-old one. He is not currently managing but is the technical director of the Icelandic national side, having last taken charge of a side in 2020. The Swede managed the Norwegian national team between 2017 and 2020, having also taken charge of Iceland, Nigeria and Sweden before that.